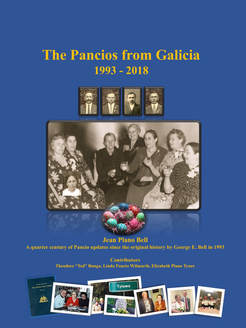 How to order:
The Pancios from Galicia 1993-2018 is privately printed for family and close friends of the Pancio family. It is printed on demand by Lulu.com.
** To order, obtain the "Direct Access" link from jean@wayneridge.com or from any of the contributors.
The book is a 25-year update of the Pancio Family History first published in 1993 (see also:
Centennial Reprint
). Biographies are organized into five chapters, one each for the Pancio brothers who emigrated from the town of Tylawa, Galicia, in Ruthenian Austria.
The five are Frank, Paul and John who raised families in the US, and the brother and sister they left behind, Daniel and Anna. The book also presents current information about Daniel Pancio's children in the "old country" and photographs not in the original history. The Lega family of in-laws, now in Ternopil, Ukraine, has been updated as well. Size: 8 1/2 x 11; 258 pages
Jean Plano Bell is the granddaughter of John Pancio who immigrated in 1914. John is one of the three brothers from Tylawa, Austria. Jean was the publisher, in 1993, of George Bell's original Pancio history. This 25-year update had three major contributors: Linda Pancio Wilmarth (Paul and Daniel), Liz Plano Tyner (John) and Ted Bunga (Frank).

Wayne & Ridge Publishing creates family histories and tools for family historians.
---
Booklist

The Pancios from Galicia, 1993-2018 UPDATE, 2018
The Pancios from Galicia, CENTENNIAL REPRINT, 2017
Yentzer, Yencer and Yancer: An American Family History. 2-volumes, 2008 and 2009Thomas Jefferson Yencer alias Bell: Military Pension Record, 2007Conway Family History by Robert A. Conway, 2002Six Swift Sisters and Related Families, 1996Six Brothers from Hinsdale: Bell Family History, 1990

BacklistThomas Bell: Military Pension Record, 1989*The Giermeks in America, 1992*The Pancios of Galicia, 1993*The Planos from Piedmont, 1994*Foster Family Ties, 1994The Jackson Knowlton Family, 1995Dr. Michael Vincent and His Descendants, S. Vincent, 199624 Facets of Teamwork Training by James Davis Jr., 2003


*Starred titles are sold out at this time.

Wayne & Ridge Publishing


Established in 1989 as a personal history publishing company, Wayne & Ridge Publishing not only produces hard bound and softcover books, but has developed a series of forms in six languages that help new family historians collect and organize their data.See the Family Historian Page for

Historian tools
Vintage photographs from the Yencer books
Sample historical documents for family histories


---
Copyright © 2010 by Jean P. Bell
All rights reserved. This site, or parts thereof, must not be reproduced in any form without permission of the publisher.